8.2.

Configuration of hardware and drivers#
8.2.1.

Available kernel variants#

The standard kernel in UCS 5.0 is based on the Linux kernel 4.19. In principle, there are three different types of kernel packages:
A kernel image package provides an executable kernel which can be installed and started.

A kernel source package provides the source code for a kernel. From this source, a tailor-made kernel can be created, and functions can be activated or deactivated.

A kernel header package provides interface information which is required by external packages if these have to access kernel functions. This information is usually necessary for compiling external kernel drivers.
Normally, the operation of a UCS system only requires the installation of one kernel image package.
Several kernel versions can be installed in parallel. This makes sure that there is always an older version available to which can be reverted in case of an error. So-called meta packages are available which always refer to the kernel version currently recommended for UCS. In case of an update, the new kernel version will be installed, making it possible to keep the system up to date at any time.
8.2.2.

Hardware drivers / kernel modules#

The boot process occurs in two steps using an initial RAM disk (initrd for short). This is composed of an archive with further drivers and programs.

The GRUB boot manager (see GRUB boot manager) loads the kernel and the initrd into the system memory, where the initrd archive is extracted and mounted as a temporary root file system. The real root file system is then mounted from this, before the temporary archive is removed and the system start implemented.

The drivers to be used are recognized automatically during system start and loaded via the udev device manager. At this point, the necessary device links are also created under /dev/. If drivers are not recognized (which can occur if no respective hardware IDs are registered or hardware is employed which cannot be recognized automatically, e.g., ISA boards), kernel modules to be loaded can be added via Univention Configuration Registry Variable kernel/modules. If more than one kernel module is to be loaded, these must be separated by a semicolon. The Univention Configuration Registry Variable kernel/blacklist can be used to configure a list of one or more kernel modules for which automatic loading should be prevented. Multiple entries must also be separated by a semicolon.

Unlike other operating systems, the Linux kernel (with very few exceptions) provides all drivers for hardware components from one source. For this reason, it is not normally necessary to install drivers from external sources subsequently.

However, if external drivers or kernel modules are required, they can be integrated via the DKMS framework (Dynamic Kernel Module Support). This provides a standardized interface for kernel sources, which are then built automatically for every installed kernel (insofar as the source package is compatible with the respective kernel). For this to happen, the kernel header package linux-headers-amd64 must be installed in addition to the dkms package. Please note that not all the external kernel modules are compatible with all kernels.
8.2.3.

GRUB boot manager#

In Univention Corporate Server GNU GRUB 2 is used as the boot manager. GRUB provides a menu which allows the selection of a Linux kernel or another operating system to be booted. GRUB can also access file systems directly and can thus, for example, load another kernel in case of an error.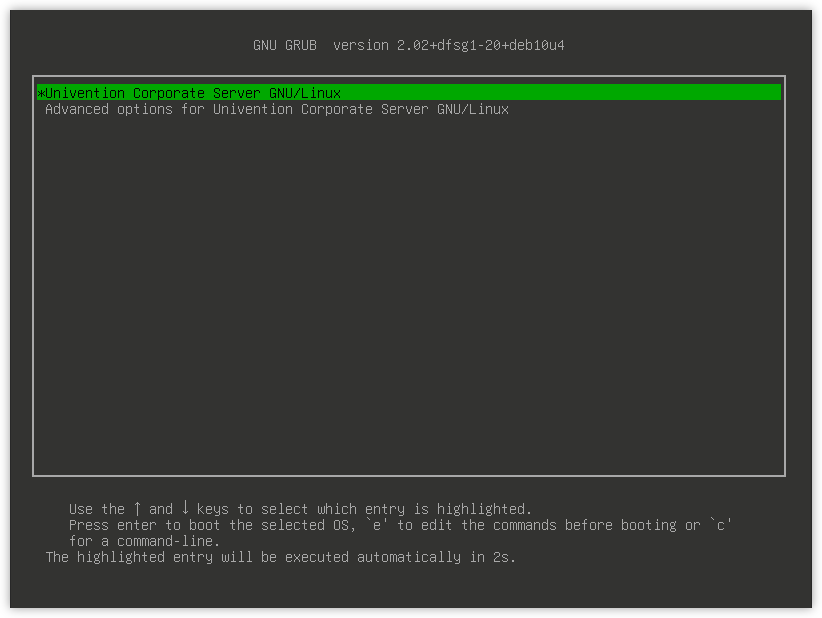 GRUB gets loaded in a two-step procedure; in the Master Boot Record of the hard drive, the Stage 1 loader is written which refers to the data of Stage 2, which in turn manages the rest of the boot procedure.
The selection of kernels to be started in the boot menu is stored in the file /boot/grub/grub.cfg. This file is generated automatically; all installed kernel packages are available for selection. The memory test program Memtest86+ can be started by selecting the option Memory test and performs a consistency check for the main memory.
There is a five second waiting period during which the kernel to be booted can be selected. This delay can be changed via the Univention Configuration Registry Variable grub/timeout.
By default a screen size of 800x600 pixels and 16 Bit color depth is preset. A different value can be set via the Univention Configuration Registry Variable grub/gfxmode. Only resolutions are supported which can be set via VESA BIOS extensions. A list of available modes can be found in VESA BIOS Extensions. The input must be specified in the format HORIZONTALxVERTICAL@COLOURDEPTHBIT, so for example 1024x768@16.
Kernel options for the started Linux kernel can be passed with the Univention Configuration Registry Variable grub/append. Univention Configuration Registry Variable grub/xenhopt can be used to pass options to the Xen hypervisor.
The graphic representation of the boot procedure - the so-called splash screen - can be deactivated by setting Univention Configuration Registry Variable grub/bootsplash to nosplash.
8.2.4.

Network configuration#

The configuration of network interfaces can be adjusted with the UMC module Network settings.

The configuration is saved in Univention Configuration Registry variables, which can also be set directly. These variables are listed in the individual sections.
All the network cards available in the system are listed under IPv4 network devices and IPv6 network devices (only network interfaces in the ethX scheme are shown).
Network interfaces can be configured for IPv4 and/or IPv6. IPv4 addresses have a 32-bit length and are generally written in four blocks in decimal form (e.g., 192.0.2.10), whereas IPv6 addresses are four times as long and typically written in hexadecimal form (e.g., 2001:0DB8:FE29:DE27:0000:0000:0000:0000).
8.2.5.

Proxy access configuration#

The majority of the command line tools which access web servers (e.g., wget, elinks or curl) check whether the environment variables http_proxy or https_proxy are set. If this is the case, the proxy server set in these variables is used automatically.

The Univention Configuration Registry Variable proxy/http and proxy/https can also be used to activate the setting of these environment variables through an entry in /etc/profile.

The proxy URL must be specified for this, for example http://192.0.2.100. The proxy port can be specified in the proxy URL using a colon, for example http://192.0.2.100:3128. If the proxy requires authentication, this can be provided in the form http://username:password@192.0.2.100.

The environment variable is not adopted for sessions currently opened. A new login is required for the change to be activated.

The Univention tools for software updates also support operation via a proxy and query the Univention Configuration Registry variable.

Individual domains can be excluded from use by the proxy by including them separated by commas in the Univention Configuration Registry Variable proxy/no_proxy. Subdomains are taken into account; e.g. an exception for software-univention.de also applies for updates.software-univention.de.
8.2.7.

Collection of list of supported hardware#

Univention collects information about hardware which is compatible with UCS and in use by customers. The information processed for this is gathered by the UMC module Hardware information.

All files are forwarded to Univention anonymously and only transferred once permission has been received from the user.

The start dialogue contains the entry fields Manufacturer and Model, which must be completed with the values determined from the DMI information of the hardware. The fields can also be adapted and an additional Descriptive comment added.

If the hardware information is transferred as part of a support request, the This is related to a support case option should be activated. A ticket number can be entered in the next field; this facilitates assignment and allows quicker processing.

Clicking on Next offers an overview of the transferred hardware information. In addition, a compressed TAR archive is created, which contains a list of the hardware components used in the system and can be downloaded via Archive with system information.

Clicking on Next again allows you to select the way the data are transferred to Univention. Upload transmits the data via HTTPS, Send mail) opens a dialogue, which lists the needed steps to send the archive via email.